Something a little different today.
In this episode of Select Fire, you'll learn about the importance of fitness training for self defense and tactical training.
And the truth about incorporating live fire into your workouts.
Is there a BEST exercise for your tactical workout?
The special guest experts are Destinee from the Fate Of Destinee Youtube channel, Jim Erwin, former Delta Operator with US Elite Gear, Bon from Fight Soap, and yours truly, Coach Joseph Arangio tactical fitness trainer.
Watch to the end to see a super-efficient way to prepare your meals for the week, in just a few hours.
---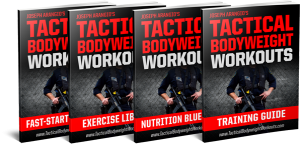 Build Tactical Strength with the Ultimate Tactical Bodyweight Exercise Training Program... Over 100 Exercises. No Gym Required

Tactical Bodyweight Workouts is based on the teachings of tactical strength and conditioning coach, Joseph Arangio, MS, CSCS.