"If you're getting hurt while working out, you're an idiot."
Patrick McNamara
SGM, US Army (Ret)
This is just one of the plainspoken pearls of wisdom you'll learn in today's Interrogation Interview with Patrick "Mac" McNamara.
Mac spent twenty-two years in the United States Army in a handful of special operations units. He has taught tactical shooting to folks of all levels of ability, from soldiers and street cops to civilians with little firearms experience.
His military duty taught him that there's more to tactical marksmanship than just squeezing the trigger. Over the years Mac developed a teaching style that emphasizes how to maintain safety at all times and choose your targets wisely.
He retired from the Army's premier hostage rescue unit as a Sergeant Major.
Nowadays he runs TMACS Inc., a tactical training company, and is author of T.A.P.S. (Tactical Application of Practical Shooting). Mac travels around the United States teaching military operators and law enforcement professionals how to be stronger and more effective.
Listen to this 25-minute Interrogation Interview to learn:
Why body-part training is dead
How NOT to be a liability to yourself and the folks you protect and serve
The shocking truth about high-impact workouts
How to avoid the dreaded "pencil neck" syndrome
The difference between over-training and under-recovery
Why your training program must be comprehensive, systematic, and progressive
Listen Now!
If you're easily offended, don't bother listening because Mac pulls no punches.
---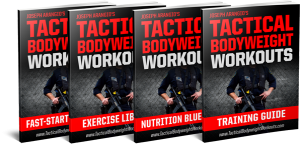 Build Tactical Strength with the Ultimate Tactical Bodyweight Exercise Training Program... Over 100 Exercises. No Gym Required

Tactical Bodyweight Workouts is based on the teachings of tactical strength and conditioning coach, Joseph Arangio, MS, CSCS.