Today I have a very special guest. Destinee from the YouTube channel, Fate of Destinee.
She's the girl next door who loves shooting guns as well as reviewing guns and gear… with a twist.
On her channel you will find not-so-run-of-the-mill gun and gear reviews from a female perspective. She's also the managing editor for TheArmsGuide.com and a contributing author to TheBangSwitch.com.
Now you may be thinking, what the heck does this have to do with tactical strength and conditioning?
Perhaps you're thinking, "Coach Joe, I already know this stuff…"
Actually this video isn't for you.
It's for the women in your life: wives, girlfriends, daughters, and granddaughters. Particularly the women you care about.
So grab your girls, pull up some chairs, and watch this 20-minute Interrogation Interview to learn the top 10 rules, for girls, for the gun range:
Why you must treat all firearms as loaded
What the movie Pulp Fiction teaches you about handgun safety
Trigger-guard tips
The best ear and eye protection for the range
Keys to keeping a focused mind
How to avoid the "chick lean"
The things you need to maintain optimal shooting performance
Simple tips to help with recoil management
Plus much more...
We're using some fancy webcasting technology, which needs a little fine tuning because the audio and video aren't quite synched. Just pretend your watching a poorly dubbed Kung Fu flick.
---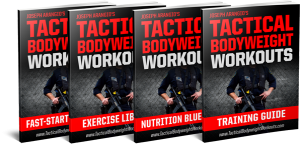 Build Tactical Strength with the Ultimate Tactical Bodyweight Exercise Training Program... Over 100 Exercises. No Gym Required

Tactical Bodyweight Workouts is based on the teachings of tactical strength and conditioning coach, Joseph Arangio, MS, CSCS.