Step 5: Anti-Spam Policy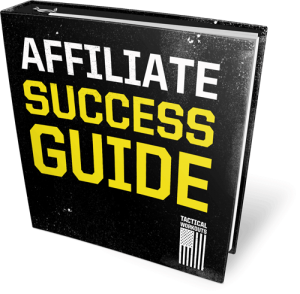 ClickBank and Superhero Publishing, LLC DBA TacticalWorkouts.com ("Vendor") strictly prohibit its Affiliates from using spam email and other forms of Internet abuse (including forum spam and blog spam) to seek sales. Spam is defined as including, but not limited to, the following:
Electronic mail messages addressed to a recipient with whom the sender does not have an existing business or personal relationship or is not sent at the request of, or with the express consent of, the recipient through an opt-in subscription;
Messages posted to blogs, forums, and message boards that are off-topic (unrelated to the topic of discussion), cross-posted to unrelated newsgroups, posted in excessive volume, or posted against forum/message board rules. Be conscious of forum rules. If a forum owner or moderator complains that an affiliate has spammed, the affiliate account may be permanently terminated after investigation.
Content posted on free blog websites for the sole purpose of keyword spamming, or comments posted to legitimate blogs that violate the comment policy of the blog owner.
Solicitations posted to chat rooms, or to groups or individuals via Internet Relay Chat or "Instant Messaging" system (such as ICQ);
Certain off-line activities that, while not considered Spam, are similar in nature, including distributing flyers or leaflets on private property or where prohibited by applicable rules, regulations, or laws.
Vendor, in conjunction with ClickBank.com may undertake, at its sole discretion and with or without prior notice, the following enforcement actions:
Account Termination
Upon the receipt of a credible complaint, Vendor administration may immediately contact ClickBank.com to investigate the complaint, and if necessary, will then terminate the affiliate account of the individual implicated in the abuse. Termination results in the immediate closure of the ClickBank account, the loss of all referrals, and the forfeiture of any unpaid money on account. At ClickBank's discretion, termination may not only result in being banned from the Vendor's affiliate program, but also being banned from ANY other ClickBank affiliate programs.
If you wish to report a violation of our Anti-Spam Policy, please forward all relevant evidence to our customer service department.
For more information on what spam is, why it is bad, and what can be done about it, visit:
The Responsible Internet Commerce Site – www.spam.abuse.net
The Mail Abuse Prevention System, LLC – www.mail-abuse.org
The Network Abuse Clearinghouse – www.abuse.net
The Coalition Against Unsolicited Commercial Email – www.cauce.org
Relationship of Parties
Affiliates are independent contractors, and nothing in this Agreement will create any partnership, joint venture, agency, franchise, sales representative, or employment relationship between the parties. Affiliates have no authority to make or accept any offers or representations on our behalf. Affiliates will not make any statement, whether on their sites or otherwise, that reasonably would contradict this statement.
Term and Termination
The term of this Agreement will begin when you accept and will end when terminated by either party. Either Vendor or the affiliate may terminate this Agreement at any time, with or without cause, by giving the other party written notice of termination. Upon the termination of this Agreement for any reason, all licenses granted hereunder shall immediately terminate and you will immediately cease use of, and remove from Affiliate's Web Site, all links to the Vendor's websites, and all Vendor trademarks and logos, other Vendor marks and all other materials provided in connection with this program.
Limitation of Liability
Vendor will not be liable for indirect, special, or consequential damages (or any loss of revenue, profits, expenditures or data) arising in connection with this Agreement or the Program, even if we have been advised of the possibility of such damages. Further, our aggregate liability arising with respect to this Agreement and the Program will not exceed the total commissions paid or payable to the affiliate under to this Agreement.
Disclaimers
We make no express or implied warranties or representations with respect to the Affiliate Program or an affiliate's potential to earn income from the Affiliate Program. In addition, we make no representation that the operation of Vendor's websites or the Affiliate links will be uninterrupted or error-free, and Vendor will not be liable for the consequences of any interruptions or errors.